This Wikia about Zombiepowder. contains heavy spoilers. Read at your own risk!
Welcome to the Zombiepowder. Wikia
The wikia about the manga Zombiepowder. that anyone can edit!
This Wikia includes 3 one-shots that were printed in the Zombiepowder. manga volumes.
76 articles since May 2009
Content
About Zombiepowder.

Zombiepowder. is a manga made by Tite Kubo. It featured in Shonen Jump Magazine from 1999 to 2000. It was cancelled after only 26 chapters. There were 4 volumes released by Viz Media.
About the manga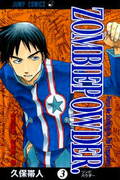 In the universe of Zombiepowder., there is a phenomenon called the Rings of the Dead. When all 12 are brought together, they can give birth to the Zombie Powder. This Powder can raise the dead and give immortal life, and of course there are a lot who seek these Rings. One of those Powder Hunters is called Gamma Akutabi, the protagonist of the story. After he saves Elwood, he joines him on his journey and so, together with Gamma's partner C.T. Smith, they begin their quest.
The mangaka of Zombiepowder. is Tite Kubo. He debuted with the one-shot Fire in the Sky in 1995. 4 years later, his manga Zombiepowder. got serialized. It ran for 27 chapters and then got cancelled. In 2001, Tite got his second serialization with Bleach. This popular manga already has over 650 chapters and is still ongoing.