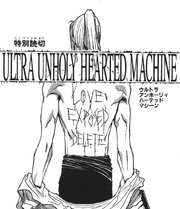 Ultra Unholy Hearted Machine (ウルラ・ンホ一リイ・ハテッド・マシ一ン) is a one-shot published in Shonen Jump in 1996. It is made by Tite Kubo and featured in the second volume of Zombiepowder..
Story
[
]
The one-shot begins with a black-haired man raising his gun against several armed men. Before he can shoot, his opponents open fire and kill him. They then move on to phase two.
Some time after that, Bäinhardt and Tinatina sit at a table with an unknown man. Bäinhardt asks the man if he understands the contract and the man noddes. He then proposes a sum of money as payment. Bäinhardt takes a look at it and replies it's missing two zeroes. The man (who is from Konhu) is surprised and says he can't afford that kind of money. Bäinhardt simply replies that he should hire someone else then. A man in a suit appeares behind Bäinhardt and says that he'll add three zeroes and asks if he won't work for him instead. Bäinhardt takes the bait. The Koshu guy protests and tries to persuade Bäinhardt to help him, but Bäinhardt chases him away. It is then revealed that Bäinhardt is a 'deleter', someone who destroys or deletes persons and buildings. Bäinhardt asks who the man is.
Characters
[
]
Ultra Unholy Hearted Machine characters
Bäinhardt Rosner

Tinatina

Mafia Leader
Agent
Koshu Man
Ms Tina
Reception
[
]
myanimelist.net, voted by 62 users: 6,86/10
teenreads.com about Ultra Unholy Hearted Machine: The characters in that story don't yet have his trademark sharp-faced look, but it has the twists and turns readers have come to associate with him.