Lechris Rescher

'Pyromaniac Pownder'
Personal stats
Name
Lechris Rescher
Kanji
No information
Age
26
Gender
Male
Height
208 cm
Weight
102 kg
Blood Type
BO
Professional stats
Status
Alive
First appearance
Chapter 16
B-side NAKED MONKEYS 11.
Edit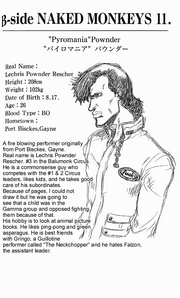 Real Name: Lechris Pownder Rescher
Height: 208cm
Weight: 102kg
Date of Birth: August 17
Age: 26
Blood Type: BO
Hometown: Port Bisckes, Gayne
A fire-eater from Port Bisckes in Gayne. His full name is Lechris Pownder Rescher. He's the No. 3 member of the Balmunk circus troupe. He's one of it's top preformers, and also has a lot of common sense. He likes kids and takes good care of his subordinates. He was the only person who opposed fighting Gamma and his crew when he found out that there was a child involved. (Due to page constraints this plot point wasn't included.) His hobby is to look through picture books of animals. His favorite things are ping pong and green asparagus. He is close friends with Gringo "The Neck Chopper", a guillotine performer. He hates the assistant ringmaster, Falzon.
Community content is available under
CC-BY-SA
unless otherwise noted.