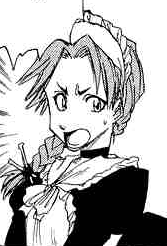 Height: 167 cm
Weight: 50 kg
Date of Birth: 5/7
Age: 17
Blood Type: O
The youngest maid in the history of Gemini Laboratory, she is in charge of accounting, cleaning, and cooking. She has red hair, she is serious, studious, temperamental, and has a strong sense of justice. Her favorite things are blue clothing. She doesn't like celery, slugs, rock music, or Geraldine.
Community content is available under
CC-BY-SA
unless otherwise noted.