Emilio Getto

Emilio Lufas Getto
Personal stats
Name
Emilio Getto
Kanji
エミリオ・ジェット
Age
16
Gender
Male
Height
173 cm
Weight
54 kg
Blood Type
AO+
Professional stats
Status
Comatose
First appearance
Chapter 12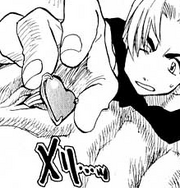 B-side NAKED MONKEYS 7.
Edit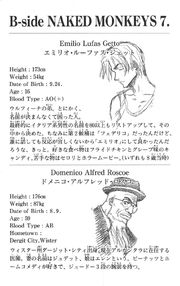 Height: 173 cm
Weight: 54 kg
Date of Birth: September 24
Age: 16
Blood Type: AO(+)
Wolfina's younger brother. It was tough thinking up a name for him. In the end, I made a list of about 80 Italian men's names and chose from there. By the way, my second name choice for him was "Federico" but that name never got any kind of reaction from anybody so I'm glad I went with "Emilio". His favorite foods are fried chicken and grape-flavored candy. His least favorite things are celery and horror movies. (He's hated them ever since he was 8 years old.)
Community content is available under
CC-BY-SA
unless otherwise noted.