Can't Kiss The Ring (Of The Dead)

Author
Tite Kubo
Illustrator
Tite Kubo
Publication date
December 6, 2006
Published by
Viz Media
ISBN
1-4215-0153-8
Cover character
C.T. Smith
Tagline
Words don't exist so that

we can tell the thruth; they exist so that we can conceal the thruth

Publication Order
Preceded by
The Man With The Black Hand
Followed by
Pierce Me Standing In The Firegarden
Can't Kiss The Ring (Of The Dead) is the second volume of the Zombiepowder. manga series.
Track 8: Search and Bangaway
Track 9: Tripod of Justice
Track 10: Wolfina (Has No Lips to Tell You)
Track 11: Rocker & Mystic
Track 12: Ring of the Dead (My Love Will Eat You Up)
Track 13: The Evergreen Birdcage
Track 14: Killer Circus
Extra: Ultra Unholy Hearted Machine
A knife-thrower. A sharp-shooter. A martial artist with a metal hand. And now...a journalist?! Meet the newest member of Gamma Akutabi's gang, the amazing Wolfina, as deadly with a camera as her friends are with a gun. Their goal is to find the Rings of the Dead...but only Wolfina knows the Rings' true twisted nature firsthand, having seen them turn her brother into a mindless husk. Does the secret of eternal life now dwell in her brother's body? And what kind of human vultures would pry the secrets from his remains? Includes a special bonus story, "Ultra Unholy Hearted Machine"!
"Hi, it's me, Nancy.♡ I live inside the refrigerator at Tite's house.♡ I think the series willalready be over in Weekly Shonen Jump by the time you read this, but thanks for buying volume 2.♡ You're so wonderful.♡ It makes me want to put tooth marks all over your body.♡ Oh no, I'm running out of space. Okay then, 'bye."♡
- Tite Kubo, 2000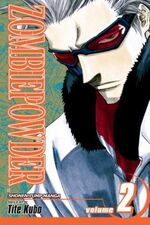 Viz Media has released volume 2 with a different cover. This one features Gamma Akutabi.
Community content is available under
CC-BY-SA
unless otherwise noted.