Baragne Balmunk

Baragne Binoix Bartoreuil Balmunk
Personal stats
Name
Baragne Balmunk
Kanji
バラ一ニュ・バルムンク
Age
Unknown
Gender
Male
Height
186 cm
Weight
Unknown
Blood Type
Unknown
Professional stats
Status
Active
First appearance
{{{First appearance}}}
Baragne Balmunk
is an A-Zero class
Powder Hunter
and
Gamma
's rival.
B-side NAKED MONKEYS 8.
Edit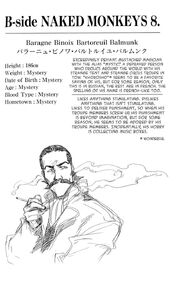 Height: 186 cm
Weight: Unknown
Date of Birth: Unknown
Age: Unknown
Blood Type: Unknown
Hometown: Unknown
A psychopathic, mustachioed magician who goes by the title of "Mystic". Balmunk is a lover of leisure, who travels the world with a strange circus group. His favorite phrase is "Khorosho" (good), a Russian word, but for some reason, everything else he says is in French. The spelling of his name is also reminiscent of French. Balmunk loves anything that's shocking. He hates anything that's not shocking. He loves to deal out punishment when the members of his group make a mistake. Although he subjects them to unimaginable torture, for some reason the troupe members seem to admire him. His hobby is collecting music boxes.
His theme songs, as chosen by Tite Kubo, are Heroes Of The Lost Valley & Eternal Glory by Rhapsody.
Community content is available under
CC-BY-SA
unless otherwise noted.